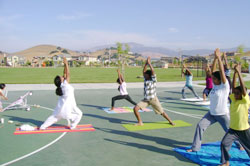 Dr. Adi teaching her class outdoors
WELCOME
Rejuvenate your body, mind, and soul with relaxing and breathing techniques. Dr. Yoga Therapy uses a range of techniques that releases stress and tension from your body and mind and fills with positive energy. It improves digestion, enhance muscle tone, and increase mental alertness. Our techniques not only benefit the body, they benefit the mind as well. Dr. Yoga Therapy is well received by major individuals. We also offer family packages that promote peace in the homes.
Our expertise is in:
Stress Reduction & Release

Relaxation

Digestion Improvement

Flexibility Improvement

Increased Energy

Meditation

Weight Loss

Pain Relief

Pregnancy Symptoms

Chronic Health Problems
RECENT EVENTS
Our recent community free seminar held on 09/13/2008 at Piccadilly Cir, San Ramon, CA. See photos from event.
9/29/08
Girls Scout Yoga Seminar held on 09/29/2008 at Hidden Hills Elementary School, San Ramon, CA. See photos from event.